Technical Parameter
| | | | |
| --- | --- | --- | --- |
| Wattage | 300W | 200W | 100W |
| LED Brand | CREE | CREE | CREE |
| LEDs QTY | 90 pic | 60 pcs | 30 pcs |
| Battery Capacity | 9,000 mAh | 6,000mAh | 3,000mAh |
| Battery Voltage | 3.2V | 3.2V | 3.2V |
| Waterproof Grade | IP65 | IP65 | IP65 |
| Color Temperature | 6500K | 6500K | 6500K |
| Working Temperature | -22℉~144℉ | -22℉~144℉ | -22℉~144℉ |
What is the feature of this solar street light?
💰0 Electricity Bill
This 300W solar light has no wiring required and 0 power consumption. All you need to do is install the solar light in direct sunlight. Every night, the light will automatically light up your yard, garage, road, fowlery, etc., and automatically turn off at dawn.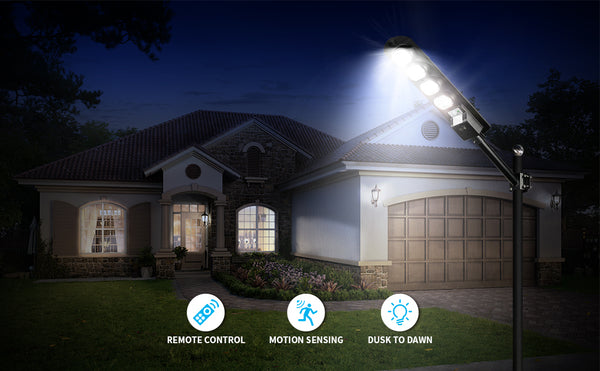 🕹3 Kinds of Control Methods
① Radar mode: when the movement is detected, the solar lamp will change to 100% brightness mode in 2s. It reverts to 30% energy saving mode again if people are out of the detected area (up to 26ft with 120°detection angle);
② No radar for 2/3/4 hours: No radar for 2/3/4 hours (100% brightness), then it enters radar mode;
③Time control mode: light up 30% brightness automatically after dark, continue until dawn (no radar).

💡CREE 3030 LED Chips
This 300W outdoor solar street lamp is equipped with 90 pcs CREE 3030 lamp beads distributed in 4 lamp caps, high brightness, low light failure, and stable quality. Large capacity lithium iron phosphate battery, strong storage capacity, longer service time.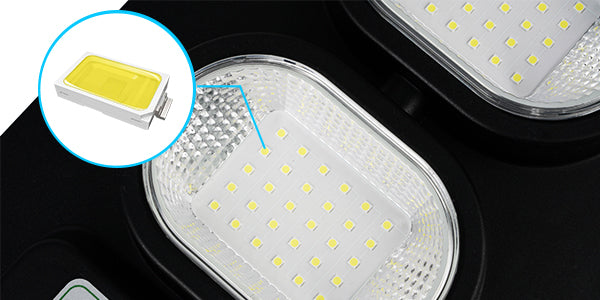 ⛈IP65 Waterproof Grade
This solar street light works well even in bad weather all year round due to IP65 waterproof grade, rainproof, lightning protection, corrosion resistant and dustproof, ABS plastic anti-UV lamp body, controller, and outer sealed rubber ring.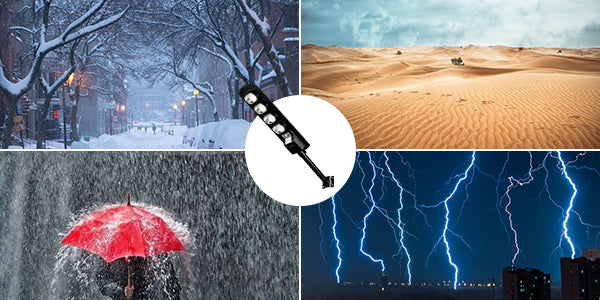 Application