[WERISE Brand Warranty Policy]
10 years of manufacturing experience in the outdoor RGB solar street lights industry, we are confident in our products. We promise a 30-day money-back guarantee and 3-years product warranty, lifetime free after-service, and technical support from manufacturer sellers. Worry-free with more than 50,000 hours long lifespan WERISE outdoor solar street lights. Please feel free to contact us if any issue arises.
[Specification]
[Features]
-Super Bright & 0 Electricity Bill
This 300W outdoor solar light is charged by sunlight during the day, provides 6500k daylight white at full night as it is equipped with 336pcs high-quality CREE LED chips and 3.2v-20000mAh battery(lifetime up to 50,000 hours+). No extra hard-wire is needed, which saves costs on installation and maintenance, electricity bills as well.
-Dusk to Dawn+Motion Sensor+Remote Control Solar Light
1. Light control: Automatically turn on at dusk and turn off at dawn.
2. Remote Control:Turn ON/OFF,Adjust the brightness+/-,Timing function,6H-8H Timing & Radar function mode ,etc.
3. Motion sensor mode makes it more energy efficient. Solar light turns into100% brightness mode when motion is detected. It reverts back to 30% energy saving mode again if people are out of the detected area(up to 26ft with 120°detection angle).
-Easy to Install & Cordless
This outdoor solar street light comes with an assembly accessories set. It can be mounted on a wall or pole. The diameter of the support pole ranges from 1 to 3 inches. This floodlight solar-powered can be illuminated all year round, with no wiring, no need for AC or DC power. (Tips: Please check and turn on the solar outdoor light before installation.)
-IP65 Waterproof
This solar street light works well even in bad weather all year round, due to IP65 waterproof grade, rainproof, lightning protection and dustproof, ABS plastic anti-UV lamp body, controller, and outer sealed rubber ring.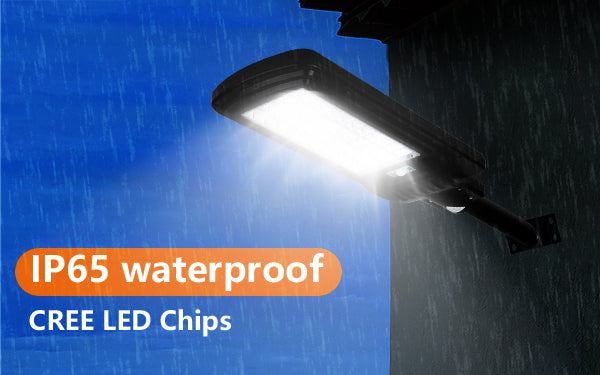 [Applications]
Sports court lighting
High mast lighting
Area lighting
Building lighting
Billboard lighting
Square lighting
Parking lot lighting
[FAQs]
Q: What's the recommended height for installation?
A: Hello, Our engineer recommends that you could install this 100w solar motion street light at a height of 9.8~13.12 ft.
Q: Will this work in cold winter weather?
A: Its working environment is -4F°~158F°, so when the minimum temperature is not lower than the minimum working environment temperature in winter, it can work normally.
Q: Whether it works normally on rainy or cloudy days?
A: Yes, this solar street light series built-in weak-light charging smart system, even on continuous rainy or cloudy days, can continue to illuminate at night.
Q: Can this solar street light stay on all night?
A: Yes, It will, the solar motion light with dusk to dawn function combines motion sensor detect mode and dusk to dawn mode, which not only guarantees the necessary lighting at night but also lights up all night.